Has your family outgrown your current home? Are you looking for practical and effective ways to increase your square footage and property value? If you love your current neighborhood, community, and home, but are in need of more space or a new type of space to meet your family's changing needs, a home addition may be the perfect solution.
There isn't just one kind of home addition. There are a variety of ways to add usable space to your home, increase its square footage, and boost its value. Keep reading to learn about 5 popular types of home additions you should know about if you want more space.
1. Conventional Home Addition
A conventional home addition is a multi-room structure that's built onto your existing home. This means you can substantially increase your livable square footage, and also boost your resale value. With careful planning and by working with a skilled architect and a home builder who has lots of experience with additions, a conventional home addition can blend seamlessly with your home's existing interior and exterior style, layout, and overall design. It becomes part of the house.
These kinds of multi-room additions may include a variety of living spaces, including great rooms, dining rooms, bathrooms, family rooms, guest bedrooms, or even master suites. Occasionally, they also may involve adding a second kitchen or kitchenette.
Though conventional home additions are generally fairly involved and expensive projects, adding square footage and usable space is one of the best ways to boost resale value. Adding livable space offers a great return-on-investment.
2. Room Addition
Is there a specific type of space you need? Maybe you just started working from home and need a home office. Or maybe you need to add a guest bedroom for when relatives come to visit. Perhaps your teenagers would like their own bathroom, or you've been wanting to add a cozy family room for movie nights. If you're in need of a particular type of space, a room addition might just be the perfect solution.
Room additions are exactly what the name suggests. Building a room addition simply means building a single room onto your home to add a specific type of space. The sky's the limit when it comes to what kind of space you can add, but here are some ideas:
Home gym
Family room
Game room or theater room
Guest room
3. Sunroom Addition
Sunrooms, also sometimes called solariums or conservatories, are indoor/outdoor spaces that help seamlessly blend your home's interior with your patio, deck, or backyard. They're designed to permit an abundance of daylight and landscape views while protecting you and your furniture from the weather and elements.
A sunroom addition is a great option if you want to optimize your outdoor living space, add usable indoor space, and add a unique, one-of-a-kind feature to your home.
4. Conversion Addition
If you have limited lot space or you don't want to lose a portion of your front- or backyard in order to build an addition, a conversion addition could be the way to go. If you have an unfinished attic space or basement, or a garage that you're willing to sacrifice for additional living space, consider transforming it into an area of your home you'll actually use!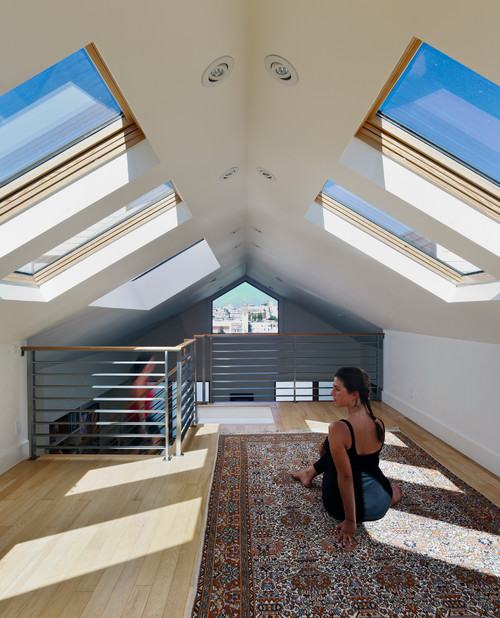 Since unfinished areas and garages aren't included when you calculate your home's square footage, a conversion addition adds to your overall square feet and therefore your home's resale value. Here are just a few ideas of how to make a conversion addition work for you and your family:
Finish a basement and turn it into a family room or home gym
Renovate an attic space to act as a kid's bedroom or guest room
Convert a garage into a home office
5. ADU or Guesthouse Addition
Accessory dwelling units (ADUs) are secondary residential units that can be added to your existing home. They may be attached or detached and can be built in a variety of different styles to meet different needs.
If you have grown-up kids or friends that come to visit or an elderly relative who needs their own space in close proximity to you, an ADU or guesthouse addition is a wonderful option. These kinds of spaces can also seriously boost your home's property value.
Adding an ADU or guesthouse is a big project that typically involves adding at least a bedroom, bathroom, and kitchen or kitchenette, so it's important you plan well and know the dos and don'ts of building an ADU!
Considering Building an Addition to Add Space to Your Home?
Whether you're looking to convert an existing space, add a room or several, or build an ADU or guesthouse on your property, we're here to help. Over our years of experience working with homeowners in the Portland, OR area, Hamish Murray Construction has built a reputation as a customer-first, reliable, and trustworthy home builder. We combine meticulous planning, quality communication, architectural integrity, and creative ingenuity to give you the home you've always wanted.
Feel free to reach out to us with any questions! Call us at (503) 460-7203 or send us a message to tell us about your project!